Pod2Tunes
People have been writing hacks for pulling music off the iPod since Day 1. However, they've all been ugly, bloated, or required money. Somebody finally implemented the obvious, allowing you to drag directly from within iTunes to the hard disk. Jumped over to their website right away to download the iTunes plugin. They had a screenshot to demo the program.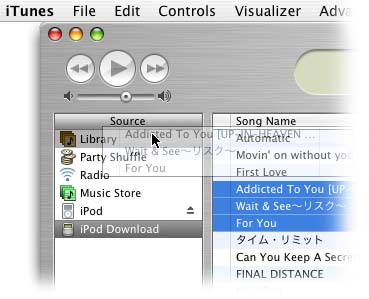 Looks like the author is a J-Pop fan. How would I know? Because I also happen to own Utada Hikaru SINGLE COLLECTION VOL.1, and that's the songs being dragged around in the sample picture.
Apparently, the plugin made the copying a little too easy, because Apple sent the dreaded Cease & Desist letter as soon as they got wind of the utility. Of course, in the brave new world of P2P filesharing, you can't really put the genie back into the bottle, but the actual download link is left as an exercise for the reader.
Posted by mikewang on 07:55 PM